— BR10 Series
Image Stitching Processor
The image splicing processor is a pure hardware structure, no operating system, and a hybrid card type intelligent image splicing processor. It can display kinds of dynamic pictures on multiple screens to realize the function of multi-window splicing. This product can automatically detect and recognize the type of the card, support DVI, HDMI and other kinds boards, plug and play, and support video splicing, compatible with various common resolutions, and realize custom unconventional resolutions, with the highest single output Support 1920X1200@60Hz, support hot-swappable board, support control of third-party equipment and other functions;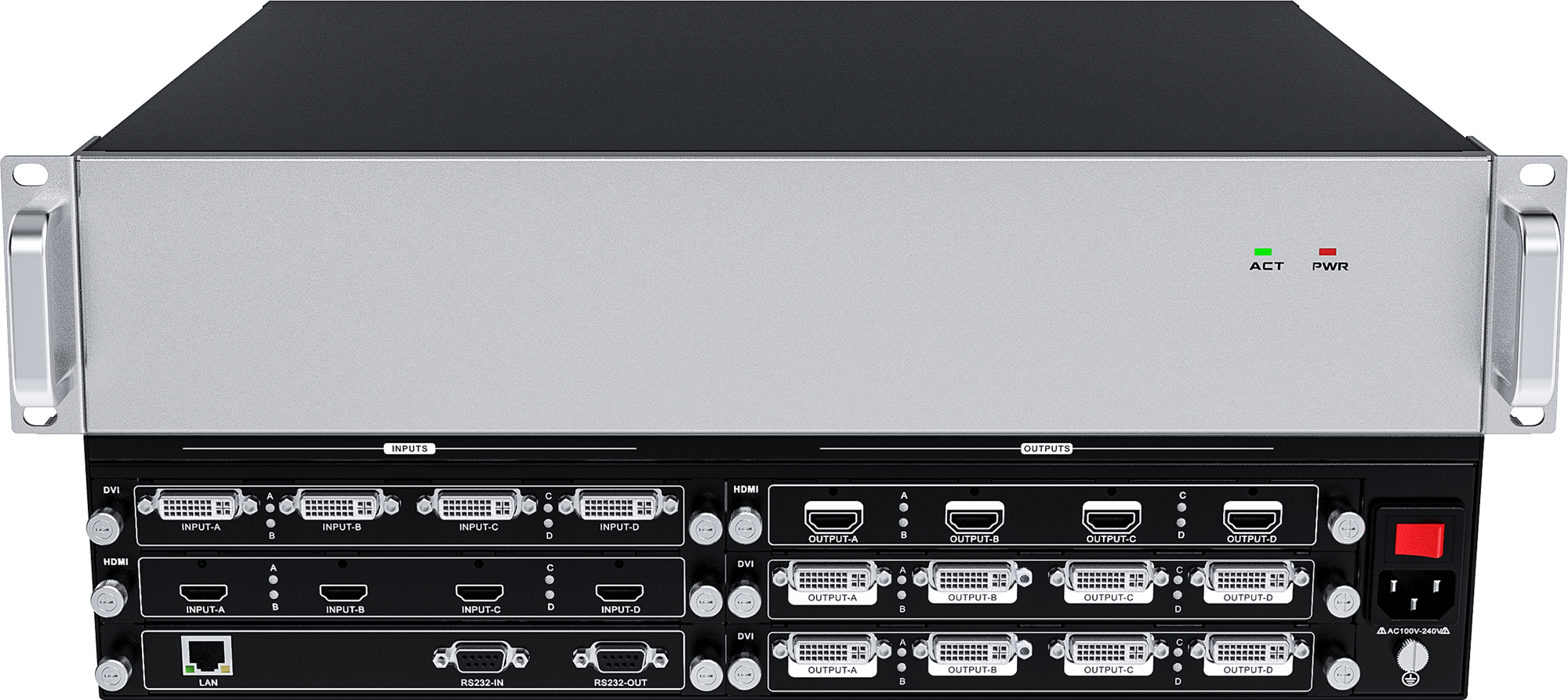 2U
Support 2 input card slots;
3 output card slots, maximum support 8*12 channels

3U
Support 5 input card slots;
4 output card slots, maximum number of channels 20*16

6U
Support 9 input card slots;9 output card slots,
maximum support number of channels 36*36.
This article takes 20x16 hybrid card processor device as an example,
the system connection diagram is as follows:

Device can be controlled as follows: RS232 control and LAN client software control, and support serial port control of remote third-party devices. By Using client control software, you can set various ways of output screen splicing display, input signal OSD setting, scene saving, scene polling, etc.
Image splicing processors can be widely used in urban safety monitoring, intelligent traffic management, video conferencing, large conference centers, large commercial plazas, military command centers, governments, etc.
• Modular design, plug-in structure;
• Using FPGA architecture, no built-in operating system, internal self-built core computing mechanism, excellent image processing performance;
• Support any resolution output, up to 1920x1200 @60Hz
• The output screen can realize all kinds of splicing
• Control mode: RS232 serial port and LAN network port;
• Through the client software, signal switching, signal preview, stitching settings, scene recall, scene save, scene preview, resolution setting, factory reset, etc. can be realized;
• Support input signal source OSD custom character display function, you can set character font, size, color, transparency, position, etc.;
• Support arbitrary window opening, superimposition, roaming, zooming, stretching and other operations on the screen;
• Support picture-in-picture display, image overlay display, multi-screen by single content display, single-screen by multi content display splicing function;
• The layer order and attribute settings of the overlay window can be realized through the client software;
• A single output display screen supports up to 2 windows display;
• Single input source supports arbitrary windowing
• Up to 4 groups of independent display output screens can be set up through the client, and the resolution of each group of output screens can be customized;
• With power-off memory function;
• The input and output boards support hot swappable;
• Support output edge compensation.
Control
 
 
 
RS232
Pin female connector
 
 
TCP/IP
Comply with TCP/IP protocol
 
 
Conventional
 
 
 
Chassis Structure

2U: Fully equipped with 8x12 hybrid processor: 2 input channel card slots; 3 output channel card slots

3U: Fully equipped with 20x16 hybrid processor: 5 input channel card slots; 4 output channel card slots

6U: Fully equipped with 36x36 hybrid processor: 9 input channel card slots; 9 output channel card slots

 
 
Power Supply
100V~240V AC,50/60Hz
 
 
No-load power

8x12 hybrid processor: 6.6W

20x16 hybrid processor: 7.1W

36x36 hybrid processor: 34.2W

 
 
Operating Temperature
0℃~+50℃
 
 
Relative Humidity
10%-90%
 
 
Chassis size (excluding mounting ears)

2U: W436.6mm x H88.0mm x D320mm

3U: W436.6mm x H136.0mm x D320mm

6U: W436.6mm x H269.0mm x D320mm

 
 
Weight (kg) (not including board)

2U: 5.8kg

3U: 6.7kg

6U:11.27KG

 
 
Chassis Material
Sheet Metal
 
 
Get started with our video wall pricing sheet
You will find all you need to know to deploy a successful video wall